A pregnant woman with TikTok handle with @pweetyfaith0 has shared her pregnancy journey, which was marked by an inexplicable and intense craving for palm oil.
Her revelation has left netizens both astonished and intrigued.
Throughout the course of her nine-month pregnancy journey, the woman, as she goes by on TikTok, disclosed that her most fervent craving was for palm oil, a distinctive and unconventional choice compared to the more typical pregnancy food cravings.
She candidly stated, "Red oil was my craving throughout my 9 months journey," shedding light on her unique pregnancy experience.
However, what truly set Faith's revelation apart was her candid admission that she went to great lengths to satiate this unusual yearning.
In a video that quickly went viral, she could be seen with a broken container, remnants of a gallon of oil she had evidently ruptured to fulfill her quest to consume red oil.
The video offered a glimpse of the extraordinary moment when she indulged in licking the spilled oil, emphasizing the depth of her craving.
The woman's video swiftly attracted widespread attention and garnered diverse reactions from netizens across various social media platforms.
Many expressed their astonishment and amusement at her extraordinary craving, which defied conventional expectations of pregnancy cravings.
In response, others took the opportunity to share their own unique and sometimes unusual pregnancy cravings.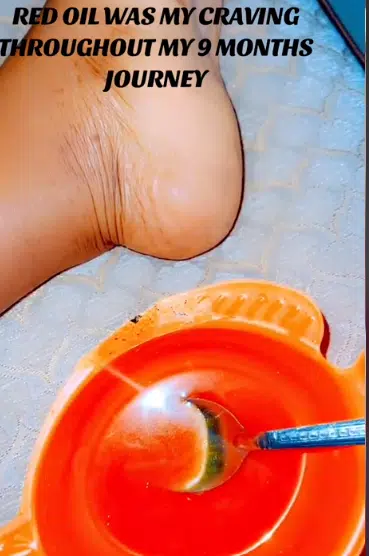 Netizens Reactions…
@user2837758897628 said; "It seems I'm the only one who doesn't have all these weird cravings. Halfway through my pregnancy and yet no cravings."
@Dee_Nwa commented; "The baby's favourite food will be Abacha and Banga stew. Congratulations dear."
@Pretty peace reacted; "God abeg of this ur own nor different so."
@faithybael said; "Hmmmm I finally found my second, this was also my craving when I was pregnant."
@BEAUTYBYBEE reacted; "Me I like ice cream and sugar cane no be small."
@preshylove said: "Mine was bone, especially chicken bone."
@user1067720316233 said; "Same here me and red oil nah 5&6 I enjoy d tick oil."
Gistreel.