Nigerian singer, Korede Bello, has caused a buzz online after sharing a tweet speaking about his wellbeing.
The tragic death of singer Mohbad made Nigerians remember some popular celebrities who seemed to have suddenly gone lowkey.
Don Jazzy's former signee Korede Bello was among the list of celebrities who left a label and netizens thought to check up on him.
He however assured all his fans on X, formerly known as Twitter that he is doing well.
He added that even if he was not fine, he wouldn't talk about it on the internet because he wouldn't want people to consume his pain as entertainment.
This came after a fan asked after the singer's welfare and added that he seemed to have poured his heart out on a song.
In his words: "I am well, but even if I am not, I will not be on the Internet talking about it because I wouldn't want people to consume my pain as entertainment. Beauty & Bliss, Thank you."
While some Nigerians are happy the singer is well, others read his reply to mean a subtle and indirect call for help.
@Afemmy6440: "Omo. You can see pain inside his tweet. Korede Bello i knew that time of "God win" is a happy boy. God no win again?? Bro, please stay strong. Everyone is going thro one thing or the other."
@victorwobbs: "This tweet get as e be sha. He just Dey give diplomatic reply. No issh tho."
See Post Below: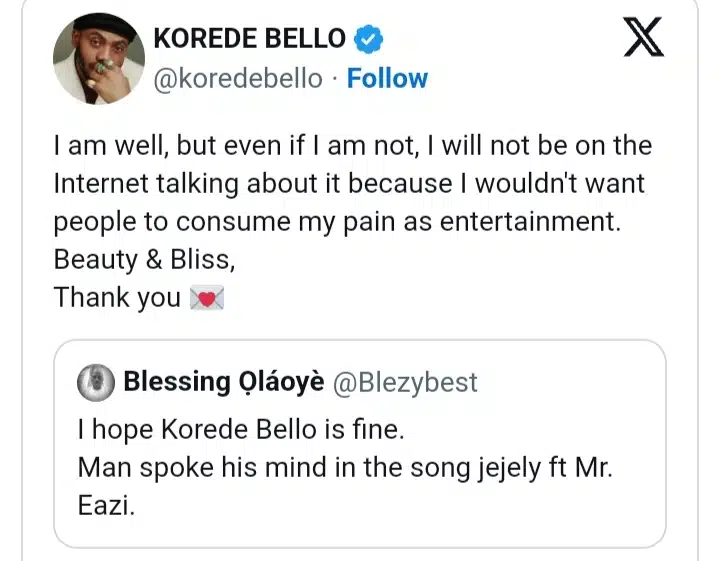 Gistreel.