James Brown, has sent shockwaves through the internet as he shared intimate photos of himself and a mysterious lover on his Instagram page.
The self-proclaimed "Duchess of Africa" captioned the photos with the endearing term.
He wrote;
"Good morning from Princess & Papito,"
Known for his flamboyant persona and vibrant presence on social media, James Brown has built a significant following with his entertaining posts and unabashed self-expression.
His latest post, however, has taken his fans by surprise, as it appears to reveal a romantic connection with the mystery man referred to as "Papito."
In the photos, James Brown and his companion are seen in various loving poses, suggesting a close bond between the two. The man's identity remains a secret, leaving fans curious about the nature of their relationship.
Netizens Reactions…
@natasha Bank wrote; "Show ur papito face na. My BF traveled since last month now, and I'm suspecting something"
@Bethy Boi wrote; "Make Papito no suffocate o"
@Nurse wrote; "This new Papito from Iraq
@Gracious Brown wrote; "My sister don love"
@Nefisahh wrote; "Another Papito trying to get down senior man way he Papito to another lady. James I greet you in Spanish".
See below;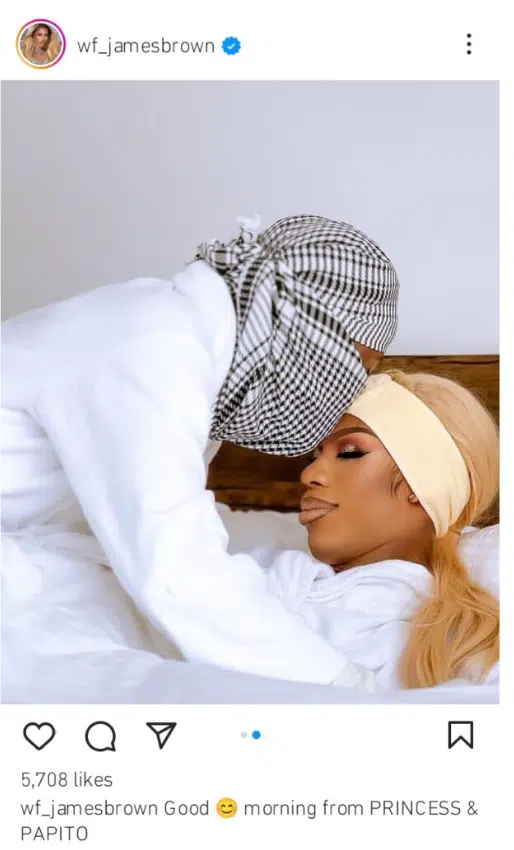 Gistreel.