In May 2023, Nigeria's President Bola Tinubu declared that the era of petrol subsidy was gone and petrol prices in the country went up by as much as 200% — ₦198 to ₦500.
Two months later, fuel prices have gone up by another 23% to ₦617.
With the annual inflation rate now at 22%, the price of petrol is just one of the many problems Nigerians are facing right now.
I contemplated getting a bicycle or becoming a power walker, but my threshold for pain wouldn't permit it.
A less painful, but more expensive alternative is electric vehicles (EVs). They are battery-powered, which means they eliminate the cost of petrol.
However, the price of EVs is well above what I can afford. A Tesla Model 3 Standard Range, the least expensive Tesla model, goes for  $35,000 (₦27.7 million). According to InsideEVs, the only electric vehicles you can get below $20,000 are used.
Photo by Charlie Deets on Unsplash. Tesla Model 3
However, price is not the only issue Nigerians have with EVs.
Tolu Williams, Founder of Nigerian EV company, Siltech, summarises Nigerians' reservations about EVs:
Running out of battery power on the highway
Getting electricity to charge the vehicle
Repairability and maintenance
Electric vehicle for the masses
Unlike their foreign counterparts, Nigerian EV manufacturers appear to understand the unique circumstances of car owners in the country. They understand the peculiar nature of road transportation in Nigeria, but can we afford their vehicles, and do they suit our roads and tastes?
The three-wheeler EV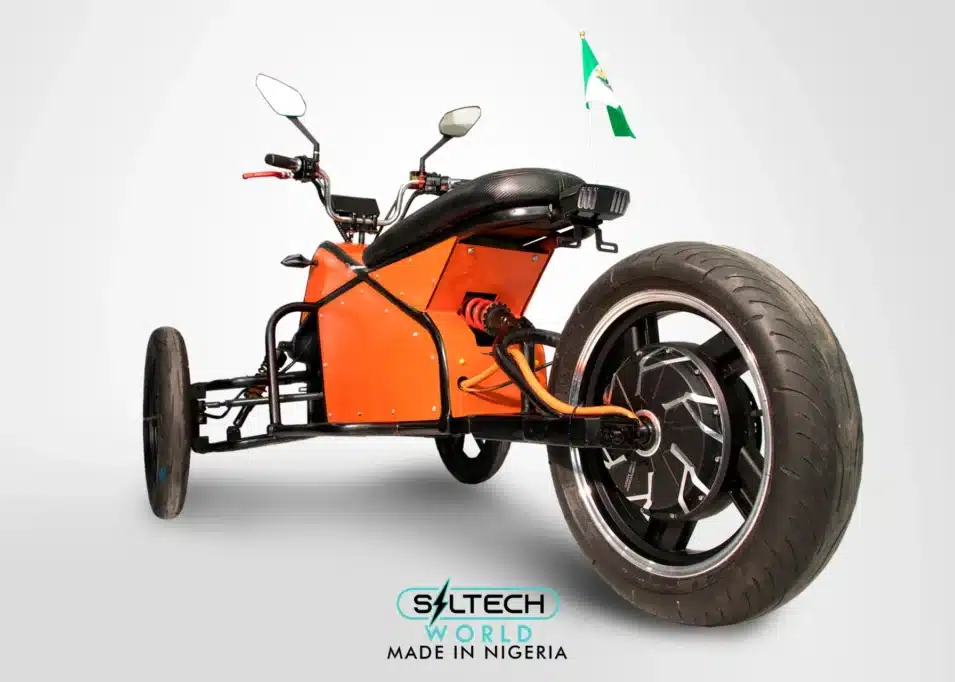 William's Siltech produces different kinds of electric bikes. From the power-bike-looking ones to off-road types, but he recommends Siltech's 65% made-in-Nigeria three-wheeler — the Falcon.
The Falcon retails between ₦650,000 ($837) and ₦700,000 ($900).
"EVs are very very expensive," says Williams, "and one of the main reasons is the battery. The battery is 55% to 60% of the EV and it is one of its core components.
"EVs are so expensive, an electric bicycle that is up to standard, capable of carrying a grown adult weighing 230 pounds can ride to work and back safely, can set you back over $1,000."
With the cost of producing EVs so high, Siltech's decision to assemble their EVs in Nigeria cut production costs by 55% depending on the scale.
The Falcon has a range of 300 km. For context, Osun State is 199 km from Ikeja, Lagos.
Unlike the Tesla which requires a ₦1.6 million level two or three charger which charges its battery fully within 30 minutes to 3 hours, charging the Falcon is as easy as charging a mobile phone and Williams estimates charging time to be two hours. This is possible because the Falcon uses a significantly smaller battery that doesn't need high-tech chargers. It also uses first-of-its-kind battery swap technology that gives users a fully charged battery in about a minute.
The charging time is significantly faster than the Tesla because it has a smaller battery.
Who is the Falcon for?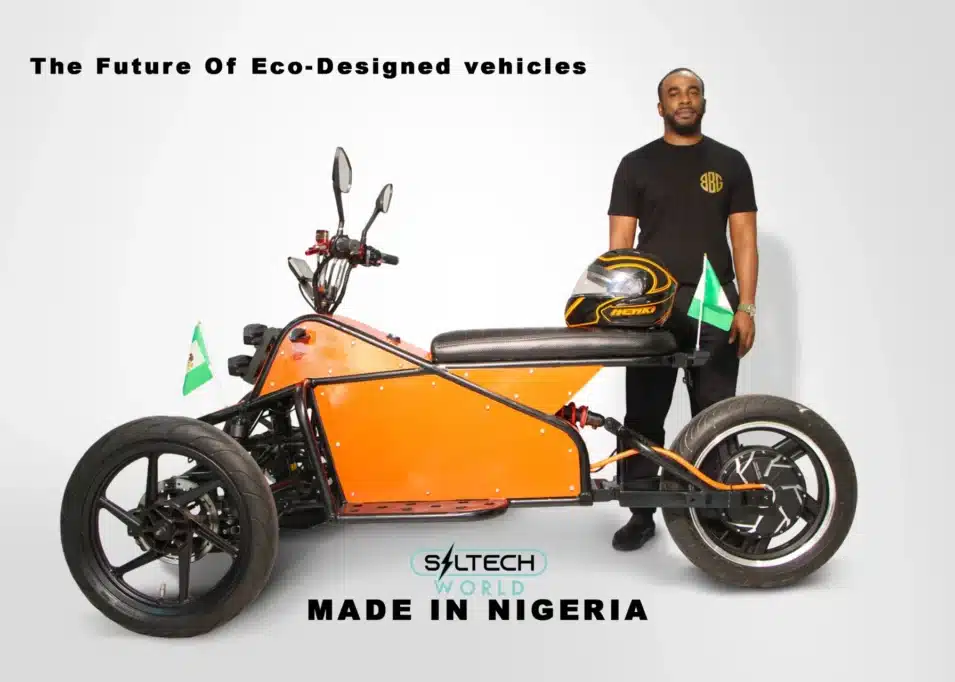 Most of the people I asked if they'd be willing to pay ₦700,000 for a three-wheeler and forget about purchasing petrol had safety concerns. But the biggest question was, "What happens when it rains?" It is worth noting that the Falcon is IP67-rated, which means it can survive rain or even get submerged in water. Addressing getting wet in the rain, Williams pointed out that the Falcon has a detachable roof.
Commercial motorcyclists also were not interested because a three-wheeler is too wide to squeeze through small spaces and the idea of a battery-powered bike seemed absurd.
But Williams believes that creating a Tesla-level EV will be costly, especially with support from the government just coming up, so three-wheelers are the perfect starting point for Nigeria. He also explained that "commercial motorcyclists are not our target, we aim to give average Nigerians a cheaper and safer mode of transportation, Most people prefer a three-wheeler because it's self-balanced and easy to ride."
The bigger Nigerian EVs
Jet Motors does not produce vehicles for personal use, but Wemimo Osanipin (CEO) also says that batteries are a major factor in the cost of EVs.
The regular version of the Jet Mover costs ₦27 million ($33,000) but the EV version sells for ₦42 million ($52,546).
"If an EV costs ₦20 million, the battery probably costs ₦10 million."
Unlike Siltech's three-wheelers, Jet Motors' EVs use way bigger batteries, probably even bigger than a Tesla's, but according to Williams, the chargers required to power those kinds of EVs aren't readily available in Nigeria.
"Where there is a will there is a way," Osanipin says about charging these vehicles, "money chases opportunity" and if there's enough need for charging stations, they will be made available.
Is there an investment opportunity in Nigeria's EV space? Does Nigeria even have an EV space?
Osanipin explains that manufacturers, investors in charging stations, investors in what will power the charging stations, and EV distributors are the four players needed to move Nigeria's EV space forward. But the problem is that these players have no reason to step in if there is no EV market.
How do we own EVs when they're too darn expensive?
Williams' solution is to assemble the batteries in Nigeria and sell the EVs for less than their current prices.
Osanipin believes in another approach.
"We have lithium in commercial deposits. Lithium is used for making batteries and batteries are 40% of the cost of making an EV. The federal government should invest in exploration."
In 2021 Tesla was willing to explore and mine lithium in Nigeria but they wanted to make the batteries outside the country and sell them to us.
That is why Olamilekan Adegbite, Nigeria's Minister of Mines and Steel told Tesla to situate a battery-making factory in Nigeria when the carmaker requested to mine lithium from Nigeria.
We've not heard from Tesla since, so I guess they weren't down with the deal.
However, the government is waiting for foreign companies to develop its EV industry. The National Automotive Design and Development Council (NADDC) just purchased Jet EVs, a move Osanipin sees as the government's willingness to invest in EVs.
The NADDC also worked with Jet Motors to draft a national plan for the development of electric vehicles in Nigeria.
Electric scooter solution?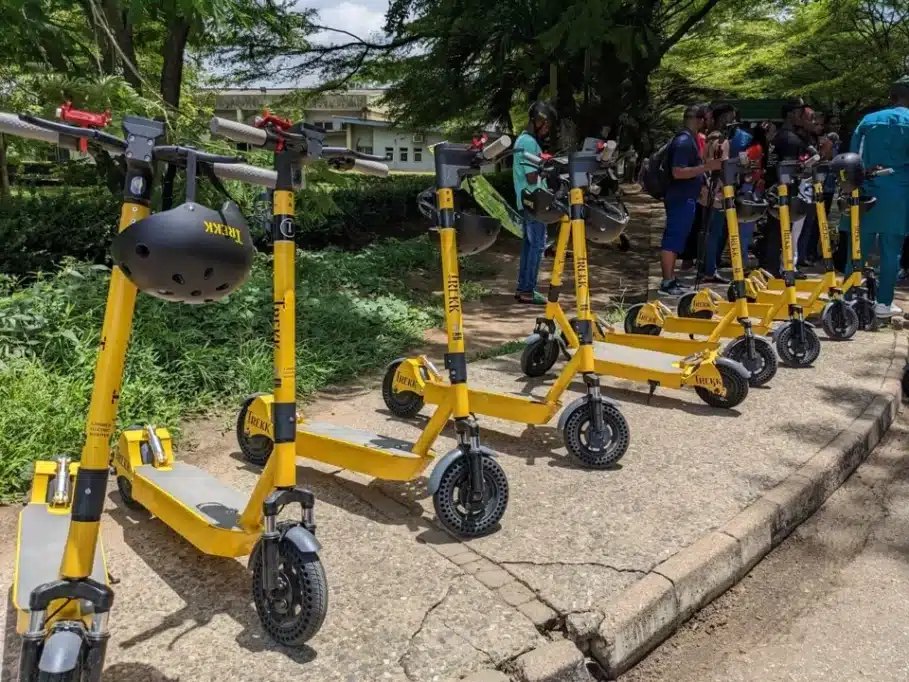 At this point, people are either too scared to ride the Falcon or not rich enough to get a Jet EV, but there's one last option — an electric scooter.
You're probably wondering how this is even a solution. I thought the same thing until I spoke to Isaac Oyedokun, the Founder of Trekk, an e-mobility startup that uses electric scooters to transport people within closed communities.
Here's how Trekk works.
You download the Trekk app, locate a Trekk scooter with the app, scan the QR code on the scooter, pay to unlock, and ride off into the sunset.
However, the downside is that it is limited to a certain group of users such as students or people who commute within a small community.
"To guard against theft and the safety of our riders, every community is geofenced to limit riders from going out of our communities."
Oyedokun says the scooter is currently available in some Nigerian universities such as Lagos State University, and Pan-Atlantic University.
With ₦10 charge per minute and ₦20 to unlock, the scooter sounds like a good deal, but EV manufacturers in Nigeria do not have an EV solution for most Nigerians.
From a lack of funding to the absence of government support, there is a lot that stands in the way of mainstream EV usage in Nigeria.
Tesla's position in the global EV market today would not have been possible without over $20 billion in investments. Noteworthy also is the fact that all companies owned by its CEO, Elon Musk, have enjoyed more than $4 billion in government subsidies.
Tesla has a deal with the American government to hire people and improve its product while it is sales tax-free for the next 20 years.
The US government incentivises consumers and producers in the EV market; people who buy the vehicles get a $7,500 tax credit.
Interestingly, EVs accounted for only 5.8% of car sales in the US in 2022. While this figure might seem small, it is an improvement from 3.1% the year before.
The EV market is growing globally and for Africa not to be left behind, its governments need to make the industry attractive for investors. Or perhaps we just wait for the Westerners to perfect the market and we leapfrog the innovation stage. I vote for the former.
techpoint