Nigerian lady has discovered that the landlord of the apartment she paid for has sold the entire building and fled abroad.
The lady, who wishes to remain anonymous, paid a substantial upfront sum of N500,000 for the apartment, only to find out that she had been swindled.
The disheartened tenant took to social media to voice her frustration, seeking advice and assistance from the Twitter community.
She reached out to popular Twitter user, Wizarab, through an anonymous message sent by a friend.
Her message revealed that she had paid the rent two months ago, completely unaware of the landlord's intentions to sell the property.
To her shock, not only had the landlord sold the building, but he had also relocated abroad, leaving her in a precarious situation.
The message reads;
"My friend paid N500k for rent two months ago. She never knew the landlord had the intention of selling the house. Now, he has sold everything and relocated abroad after collecting N500k."
Netizens Reactions…
@Cjamespeaks said; "The new owner acquired both the asset and the liability. She's staying."
@scamdamp said; "Well she is entitled to stay for the full duration of her rent. Also, the new owner will have to give her time to MOVE OUT (after her rent expires)
@mindx_tech said; "The new owner acquired both asset and liability, she has the right to stay there till her rent expires or the new landlord can refund her and she move out."
See below;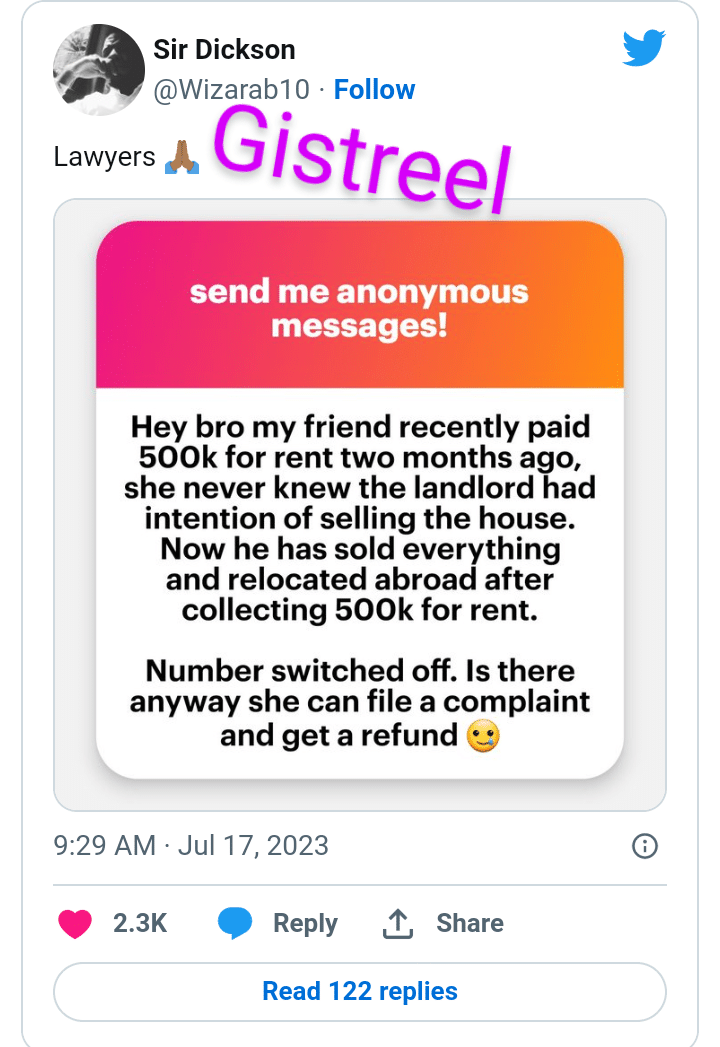 Gistreel.