The logistics manager for Afrobeat singer Davido, Isreal DMW clarifies his boss's affiliation with the wanted upcoming singer, Trevboi accused of murder.
This comes amidst allegations of Trevboi shooting and killing a man at a popular club in the Fadeyi area of Lagos State.
Contrary to being a member of the 30BG, Isreal made it clear that Trevboi was never officially signed to DMW.
Taking to his Instagram story, Isreal DMW explained that Trevboi was simply someone Davido once support voluntarily by collaborating on a song.
Isreal further disclosed that Davido generously covered all expenses for Trevboi's music video, but they have since parted ways. He expressed disappointment in the singer, stating that he had the audacity to put a stain on Davido as a form of gratitude for his previous kindness.
"Trev was never Oga's signee. He was just somebody whom Oga assisted freely, by, jumping into his song. Oga even paid everything for his video shoot. Oga, long parted ways with him when he even had the guts to insult Oga, as a payback for all his kindness," he wrote.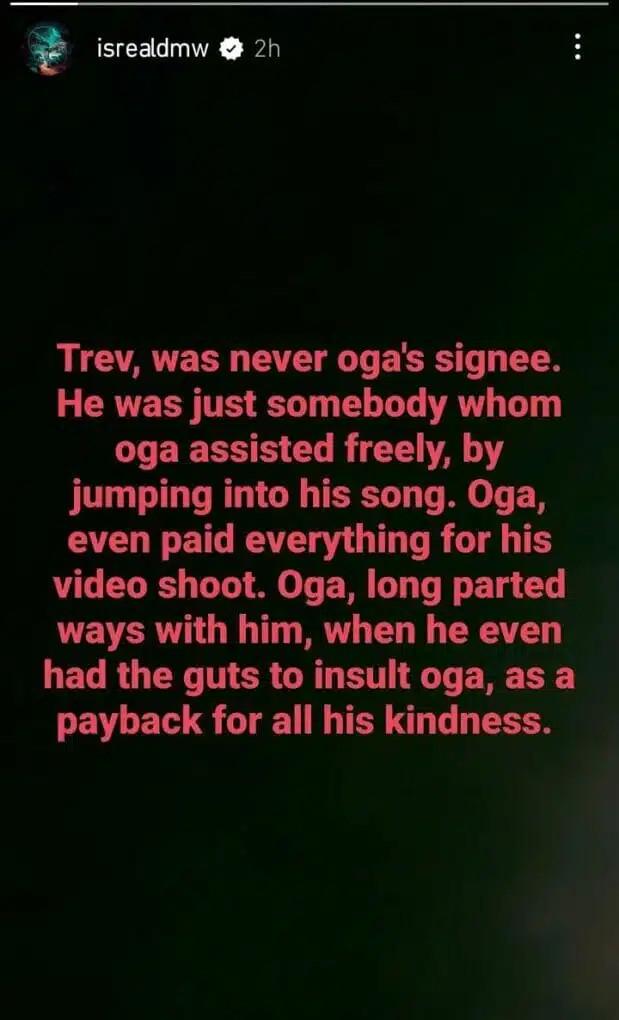 Gistreel.