She describes her mother as the strongest person she knows.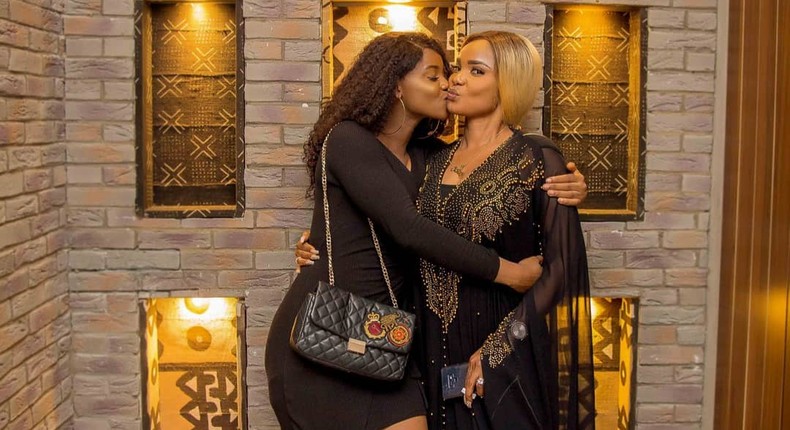 Priscilla Ojo talks about coming from a line of strong women, revealing that she has never even seen her mother cry.
Appearing as guests on the BTS Reality with Jermaine podcast, Gen-Z content creators Priscila, Quick Steph, and Frances spoke on different topics, including dealing depression with suicidal thoughts.
Priscilla is the daughter of the legendary Nollywood actress Iyaobo Ojo who has been a single mother for many years; and during this interview, she opened up about the biggest lesson she learned from her mother, strength.
Describing her mother as the strongest person that she knows, she said that she has never dealt with depression before because she learned how to be strong from her mother.
In her words, "I wouldn't say I was depressed at any point because I feel like we came from a lineage of strong women. I am very strong; my mum is very strong."
When asked if she ever dealt with depression because of the missing father figure in her life, she disclosed that she initially had daddy issues. She then noted that her mother filled that void for her very quickly, saying, "My mum filled in every gap…my mum did everything perfect".
Going further, she mentioned that she has never seen her mother cry because of how they tend to deal with their struggles in other ways privately.
She said, "I have never seen my mum cry. We have never had moments when we are crying. We are very strong, my mother is very strong and I learned from her. Even when I go through something, she can never see me down. We have that spirit, that energy of not in this house. I can be on my bed crying, once she comes in, I am dancing and she knows."
She then encouraged the viewers to stay close to God, as all good things come in due time.
Pulse.NG