The time has come for us to remind ourselves of what this country used to be. Modernization and perhaps civilization has made us all so comfortable we pay little or no attention to our historical background.
The only time we feel the need to get informed about the history of this great country is when we have job interviews to attend. The current affairs being taught at the primary school is not doing enough justice as many adults do not have the basic knowledge of how this country evolved and came to be what it is now.
Majority of the people that represents that time of our history are gradually thinning out; the few left are either being celebrated for their works and investments or forgotten in some remote village. The pictures that would be shared here would jolt your memories and help many people know the kind of environment our fallen heroes lived in then.
It is more than beautiful watching some Nollywood movies that create the picture of the kind of politics that was played then. This goes beyond having the names and pictures of the fallen heroes immortalized on paper notes spent as cash. This piece would help you make comparison on the old Nigeria and this new one we are rocking. Find below some of the vintage Nigerian pictures we bet you have not seen before.
1. The court they had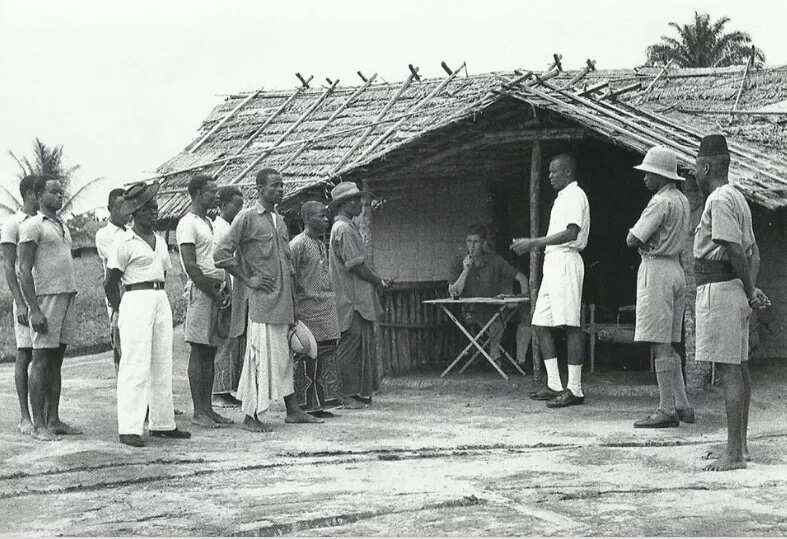 There were disputes then too and there was the need for an overseer to settle disputes between people in a community. The above picture is that of a village court in Uyo; it was taken in 1949 with a colonial district officer settling a dispute with his aid by his side. The aid acted as the interpreter.
2. Nigerians celebrating after the end of the civil war in 1970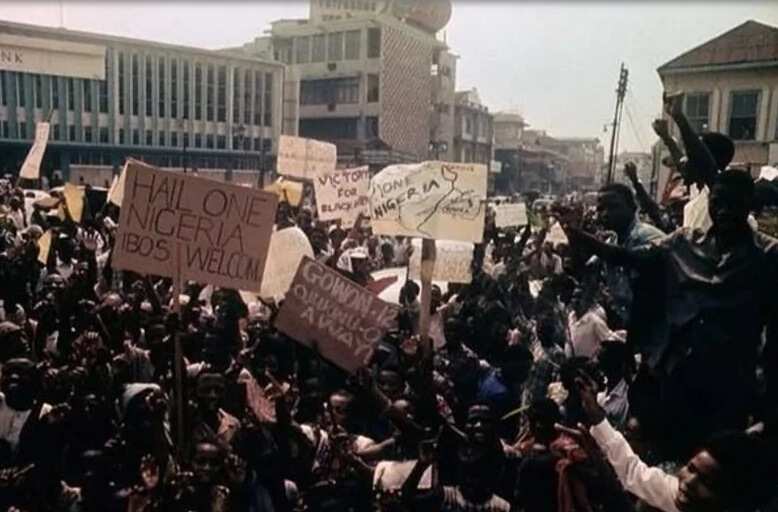 The civil war lasted for three years when some nationalist aspiration of the Igbo people felt they could no longer co-exist with the northern-dominated federal government.
3. Ghana must go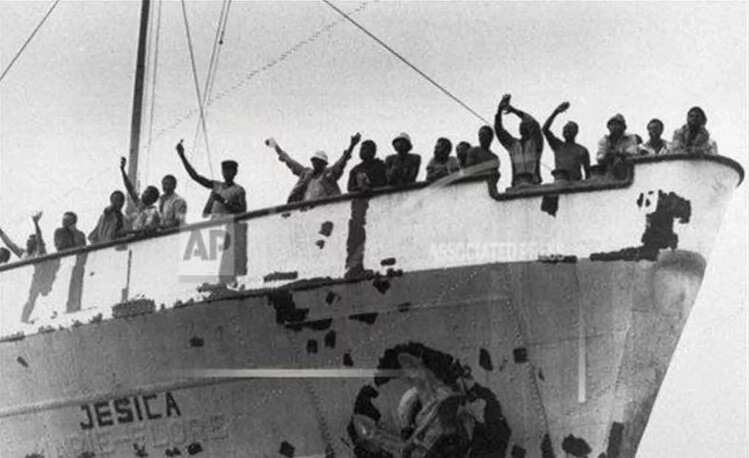 Nigerians may know this historical part of Nigeria when Ghanaians were asked to leave the country because of the popularly sold paper bag termed as 'Ghana must go'. However, not all Nigerians know what led to this but the phrase is a popular one in Nigeria. This picture shows the Ghanaians waving from the ship deck after they were deported in Lagos on 2nd February, 1983.
4. Education was good then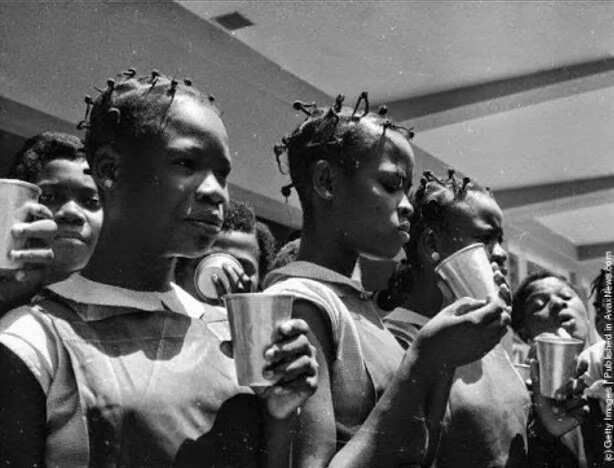 The educational standard was good back then, those who had the opportunity to be in school then were envied by their mates who were farming or learning other trades. Unlike now that those learning vocational trade make people who are in the university feel worthless as a result of the unemployment challenge they often face after school. This picture shows some students of students of Queen's College at Yaba in Lagos taking a milk break in June 1959.
5. Meet 'Killi-we' Nwachukwu Read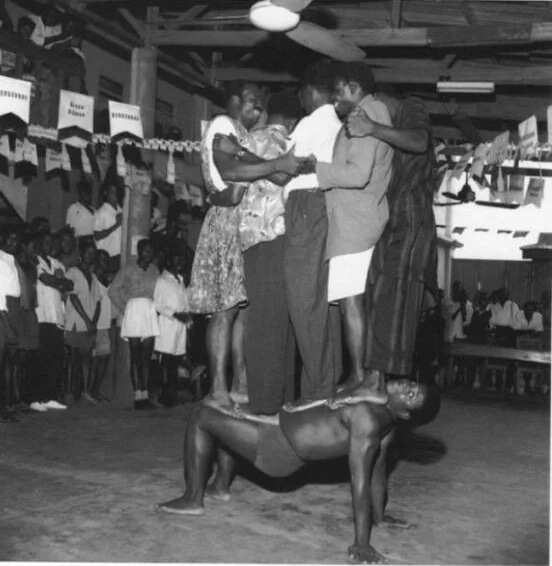 He was a Nigerian superman who had lots of stunts attached to his name. He was able to lift buses and could carry up to four people at a time. People paid ton watch him perform then and was a natural when it came to stunts. The name 'Killi-We' was said to have stuck after a woman screamed 'Killi We Nwachukwu, Killi we Nwanchukwu' which means 'Nwachukwu, kill us' when he was fighting her and her husband. Pupils paid 50 kobo to watch him perform then.
6. The first black pilot in the world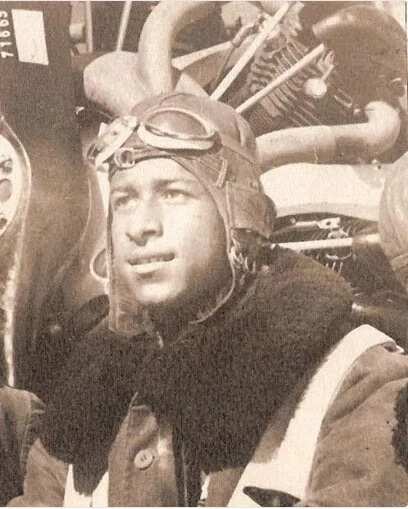 Ottoman Pilot, Izmirli Alioglu Ahmed was the first black pilot in the world as at 1916. His grandmother hailed from Borno in Nigeria. He became the first black military pilot in aviation history when he started serving in November 1916. He was one of the few black pilots in World War I.
7. The Carter bridge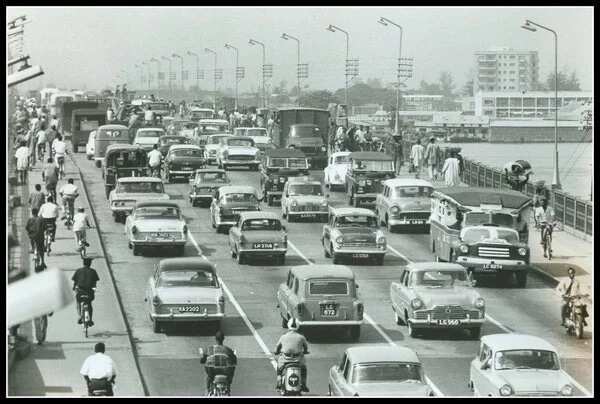 The Carter bridge was built in 1901 and is one of the three bridges connecting Lagos Island to the mainland; the other two bridges are the Third Mainland and Eko bridges. The above picture shows the dreaded Lagos traffic on the Carter bridge in 1963. Older people in the society would remember these cars and reminisce the old and good times they spent then.
8. Traffic light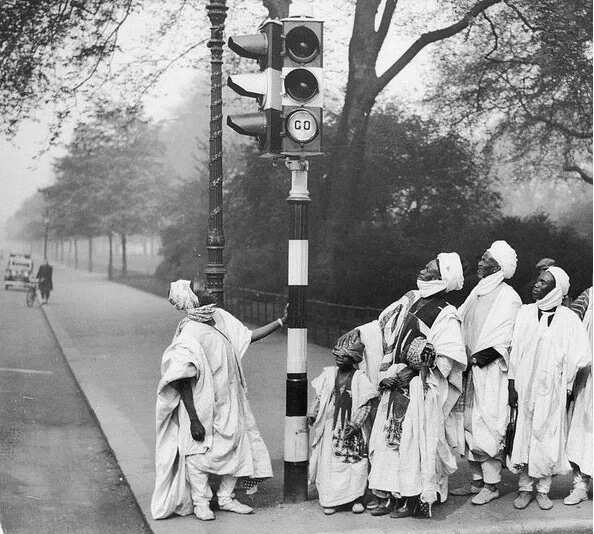 If you have seen this picture before, it is most likely to be from the meme generated about clerics in Ilorin who were visiting Lagos for the first time. Pay no attention to that; this picture shows the Emir of Katsina and his entourage in London. They were admiring the Hyde Park traffic lights in London on the 1st of May, 1933. As at that time, the Emir was probably puzzled and wondered when Nigeria would have a structure like that.
9. Meet Edna Park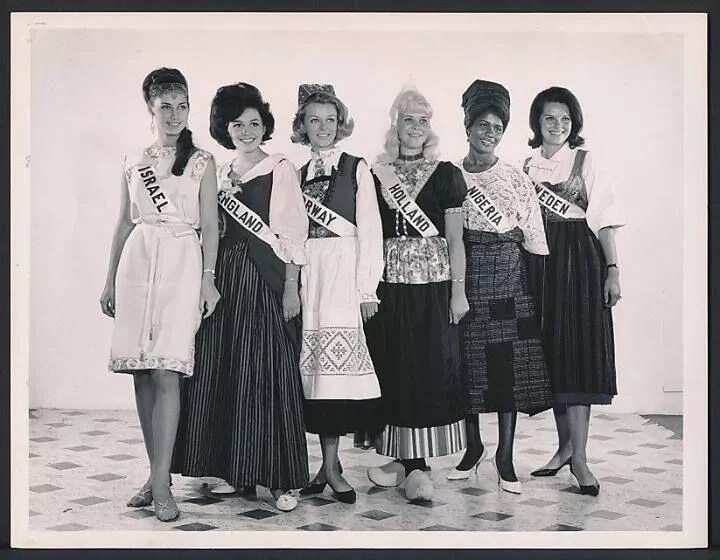 Edna Park was the first Miss Nigeria to represent Nigeria at Miss Universe held in 1964. She is famous for collapsing on stage when she did not win the contest.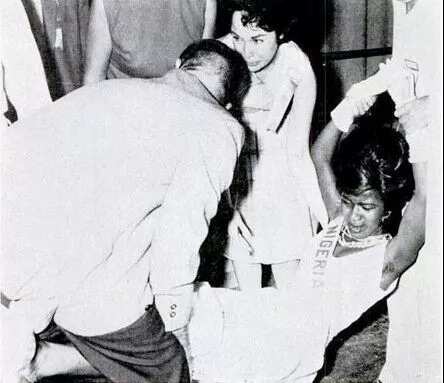 10. And finally 'Ajala Travel'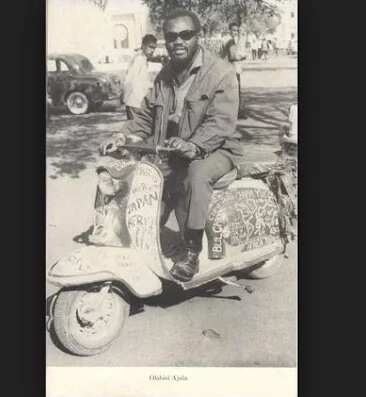 If you are a Nigerian, you would be familiar with the name 'Ajala Travel'. It is often used when referring to people who love to move around from one place to the other. Ajala Olabisi was famous in 1950s for travelling round the world. He traveled to more than eighty countries with his scooter.
Legit.