A commercial bus driver was shot dead today, April 15, allegedly by an official of the Nigeria Security and Civil Defence Corps (NSCDC), Isiala Ngwa Division, in Abia State.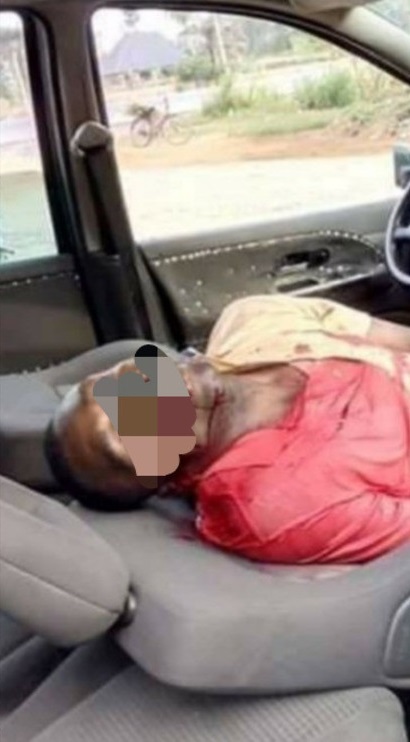 The victim was reportedly carrying perishable and non-perishable food items in his car to deliver when he was stopped by the NSCDC official.
The driver and the official later got into an argument. The reason for the argument cannot be verified at the moment but some people have claimed that it was over bribe.
The driver allegedly tried to drive off during the argument and the NSCDC official allegedly shot at him, killing him
The death of the driver led to heavy traffic on the Umuikaa, Isiala Ngwa South LGA axis of Enugu-Port Harcourt expressway as youths in the area took to the road to protest the alleged killing.
The incident was said to have angered youths in the area who attempted lynching the NSCDC official.
The NSCDC official narrowly escaped death by running into a police station in the area.
According to an eyewitness who spoke to DailyPost: "the driver carrying tomatoes among other food items approached the Civil Defence checkpoint where they (NSCDC) were enforcing the order of the governor (Ikpeazu) on COVID-19 after they flagged him down.
"We didn't know what they were discussing initially, but when tempers started flaring, the driver was accusing him (NSCDC) personnel of extortion.
"The driver said that he can't give him more than what he has given (bribe) to him (the NSCDC official), insisting that the restriction order doesn't affect drivers carrying food items.
"When the temper was high, we left and were watching the drama from afar. The driver tried driving off and the next thing we heard was a gunshot. We all ran away and by the time we came back, we saw the driver in the pool of his blood."
The state governor has expressed shock over the development.
In a press release signed by the State Commissioner for Information, Chief John Okiyi Kalu and made available to newsmen in Umuahia on Wednesday, the state governor condemned the act.
The governor also appealed to members of the public to remain calm and not to take law into their hands.
The statement reads: "Governor Okezie Ikpeazu has directed the State Commissioner of Police to immediately apprehend the suspect(s) and fully investigate the circumstances leading to the latest unfortunate incident at Umuikaa junction and ensure that justice is done swiftly.
"We commiserate with the family and friends of the deceased and, once again, call on security agents bearing arms to be responsible and follow relevant service rules regarding the use of firearms."
yabaleft