Two domestic workers have been arrested for carting away with their boss' jewelries worth N243million and reselling them at a very cheap rate.
The workers connived and stole a Cuban Diamond neck chain, a Frank Muller and Rolex wrist watches worth N243 million belonging to their employer. They were arrested on Wednesday in BornoState after almost two weeks of fleeing Lekki, Lagos.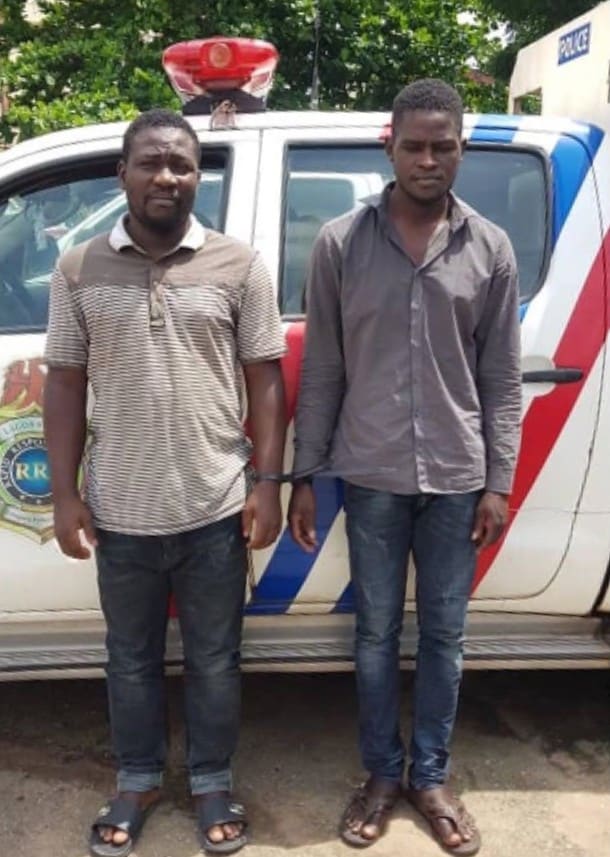 The suspects: Alex Obinyan (39), cleaner and Ayuba Samson (29), car washer, were arrested after they had sold the Cuban Diamond neck chain and Frank Muller wrist watch for N6M and N4M respectively in Lagos and Abuja.
The identity of their employer, who sources confirmed is a popular celebrity with vast investment in Lekki, Lagos is being kept under wrap by the police. Obinyan, source disclosed, had spent over 8 years working and living with the celebrity in Lekki before the incident.
His colleague, Ayuba started working at the celebrity residence only two months ago after returning from Chibok, his home town. They earned N80,000 and N50,000 monthly.
The suspects, who were captured on CCTV leaving the celebrity's residence have confessed stealing the Cuban Diamond Chain valued at N54 million, a Frank Moller Wrist watch worth N140 million and a Rolex wrist watch worth N49 million.
According to Obinyan, they sold the Cuban Diamond Chain in Eti – Osa, Lagos for N6 million while the Frank Moller watch was sold in Abuja for N4 million.
yabaleft.